The Northland Community Council Executive Board consists of the Council's elected officers (president, vice president, secretary, and treasurer) and the Council's immediate past president when applicable as outlined by Article VIII of the NCC By-Laws. The Executive Board is responsible for steering the Council and overseeing its operations.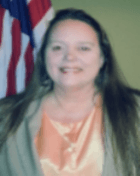 Alicia Ward
President
---
Alicia Ward and her husband, Russell Ward moved to Cooperwoods as newlyweds in 1997. Alicia formerly lived in Forest Park East. She has actively served her community for numerous years on both the Financial and Grounds Committees for Cooperwoods and also sits on the Cooperwoods Condominium Board of Trustees. She is the Cooperwoods Representative for the Northland Community Council and serves on the Northland Community Council's Development Committee. She is actively concerned with recycling and environmental issues.
Roger Davidson
Treasurer
---
Roger Davidson serves as the Albany Park HOA representative to the Northland Community Council, as well as the NCC Development Committee. He also serves as an Albany Park HOA Trustee. He has spent more than the last 25 years in the technical software support and project management fields after his honorable discharge as a Staff Sergeant from the United States Marine Corps in 1993. He served for 6 years of active duty and was involved in both Operation Desert Shield and Desert Storm, the first Iraqi war. He has a Bachelor of Science degree with an Accounting Major from the Northwest Missouri State University and was born and raised on a small farm in south west Iowa.
Emmanuel Remy
Immediate Past President
---
Emmanuel Remy, Clinton Estates Civic Association